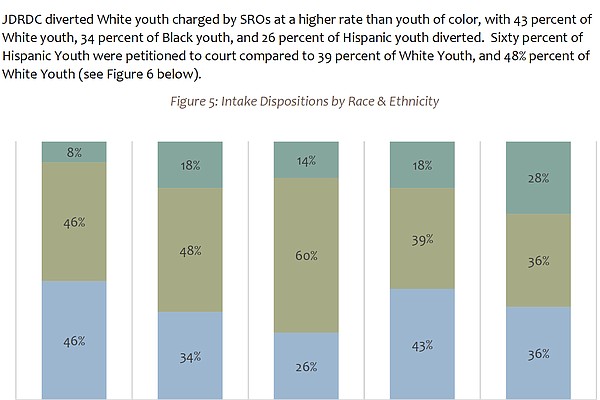 Tuesday, July 14, 2020
"While schools' primary role is to serve as an institution for learning, it must also remain a suitable place for young people to mature and sometimes err, without being subjected to the unquestionably perilous path of the criminal justice system," wrote members of the NOVA Equity Agenda Coalition in a July 6 letter to Fairfax County Public Schools Board and Fairfax County Board of Supervisors. In it, the 29 organizations, faith-based groups and others that compose the coalition, urged FCPS to remove school resource officers (SROs) from its schools and "rely exclusively on administrative security officials that reported to FCPS." The coalition also called on the Supervisors to redirect funds budgeted for the SRO program to go to hiring counselors instead.
School resource officers gained popularity after the 1999 Columbine school shootings. According to Schools, 51 Fairfax County Police Department officers serve as SROs in the County's middle, high and secondary schools, one to each school with the exception of Robinson, Hayfield and Lake Braddock Secondary Schools that each have two. An SRO is a sworn police officer assigned to a Fairfax County Public School and employed by the Fairfax County Police Department. According to the FCPS website, school administrators, to include school principals, teachers, and school security staff have exclusive responsibility for school discipline. "SROs are prohibited from any involvement in student discipline. But they may attend disciplinary hearings (per the MOU) at the request of FCPS administration." https://www.fcps.edu/node/36892
In 2018, Fairfax County School Board approved a revised Memorandum of Understanding between Fairfax County Public Schools and the Fairfax County Police Department for the School Resource Officer (SRO) program. At that time, the FCPS website reported, "Superintendent Scott Brabrand and FCPD Police Chief Edwin Roessler produced a revised draft agreement that was reviewed during three community meetings by the SRO Community Review Committee, which included individuals representing FCPS and community-based organizations."
IN THEIR JULY 6, 2020 LETTER, the Equity Agenda Coalition challenged whether the revised memorandum was achieving its goals and if School Resource Officers were a disservice to students. The coalition offered an alternative and how to fund it.

CSRO programs nationwide have rocketed the "school to prison pipeline" into hyperdrive, and Black and Latino children are paying dearly," stated the letter by Equity Agenda Coalition. It read: "In Virginia, black students make up 39 percent of the students enrolled in public schools with at least one arrest, but they also comprise 75 percent of school-based arrests. Even more alarming is that the overwhelming majority of these arrests are for relatively common and minor transgressions like fights, arguments or theft...This must end, and Fairfax County should lead the way in Virginia."
Kofi Annan is the founder of The Equitable People, one of the organizations that signed the letter "In Solidarity." Acting on behalf of the coalition, Annan wrote in a cover note accompanying the email with the attached letter and supporting documentation: "In light of newly discovered data demonstrating that students continue to be subjected to the justice system for disciplinary issues that should be handled administratively per the 2018 changes to the SRO Memorandum of Understanding, the NOVA EAC strongly urges the School Board and Board of Supervisors to phase out this harmful program."
According to the letter, the revised 2018 Memorandum was supposed to ensure a distinct line between officers and school administration, and restrict officers from getting involved in non-safety-related matters; mandate crisis intervention and disability awareness training, and require SROs to read students their rights before crime-related questioning and alert parents before their student was searched or questioned. However, NOVA Equity Agenda Coalition said follow-on data provided by Fairfax County Juvenile & Domestic Relations District Court demonstrated the 2018 guidelines were not implemented consistently or effectively.
The letter read: "According to data uncovered by the Northern Virginia Equity Agenda Coalition. the full 2018-2019 year showed a decrease in the number of arrests and charges, but unfortunately no change in the types of charges being filed. Between August 2018 and June 2019, SROs processed 321 juvenile cases (278 individuals). 116 were for Possession of Marijuana; 36 for Assault; 10 for larceny; 6 for Trespassing; and 13 for Disorderly Conduct. In keeping with previous trends, over half of the students charged are African American or Latinx. The fact that these practices continue despite the new regulations demonstrates the inability for FCPS to exercise proper oversight over the SRO program, and to hold Fairfax County Police Department or its administrators accountable for following the Memorandum of Understanding between the school system and the police department."
James R. Walkinshaw (D) is the Braddock District Supervisor. Upon receiving the letter and documentation of new findings, he said, "Clearly, the Board of Supervisors and the School Board need to re-evaluate the SRO program as part of our broader reform effort. In Fairfax County, every child should have the opportunity to grow and thrive and we have a responsibility to address any issue that contributes to disproportionate outcomes."
Chairman Jeffrey C. McKay thanked Annan for the email and his work in the community. "I appreciate your thoughtful letter and the work of the Equity Agenda Coalition," he said.
ANNAN said he received phone calls from School Board Member Karen Key-Gamara and a few other School Board members. He said, "Unfortunately, none of the responses indicated there was a sense of urgency around the topic, and none of them appeared ready to commit to removing the SROs before the beginning of the new school year. We are very concerned that both the FCPS school board and Board of Supervisors intend on dragging their feet with the expectation that the issue will die down, which as we've witnessed will only lead to the criminalization of more black and brown children. Black and brown communities in general, and the children of these communities need meaningful solutions now more than ever, and the community has spoken loudly and clearly that more police should not be part of that solution."