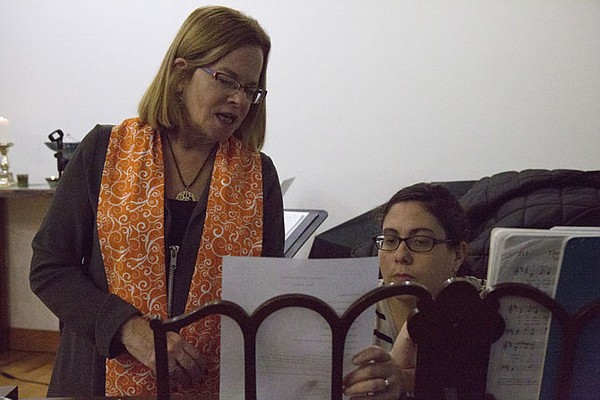 Thursday, October 12, 2017
Reston — Community members gathered to find comfort in knowing they weren't alone
in their troubled reactions to the worst mass shooting in modern U.S. history.
The Unitarian Universalist Church in Reston held a community vigil on Monday evening, Oct. 2, just 21 hours after the mass shooting occurred in Las Vegas the night prior, which killed at least 59 people and injured more than 500 after a gunman opened fire at a country music festival crowd from the 32nd floor of the Mandalay Bay Resort and Casino. The multi-faith gathering prayed, reflected and lit candles for the victims.
UUCR MINISTER Rev. Debra Haffner gave a sermon in the sanctuary for those who had traveled from around northern Virginia to seek comfort.
"It is good to be together," she said to the intimate gathering. "At first, I felt horror; and then I felt grief; and then I felt vulnerable; and then I felt angry; and then I felt numb."
She read from the Old Testament of a New King James Version of the Bible in Psalm 23, a passage she finds comforting during rough times.
In this chapter, King David, the first monarch of all the Israelite tribes, wrote a poem about the relationship between Christians and their God by using a metaphor of a shepherd leading his flock of sheep, even among enemies:
"The Lord is my shepherd; I shall not want. He makes me to lie down in green pastures; he leads me beside the still waters. He restores my soul; he leads me in the paths of righteousness for his name's sake. Yea, though I walk through the valley of the shadow of death, I will fear no evil; for you are with me; your rod and your staff, they comfort me. You prepare a table before me in the presence of my enemies; you anoint my head with oil; my cup runs over. Surely goodness and mercy shall follow me all the days of my life; and I will dwell in the house of the Lord forever."
Haffner also recited a reading inspired by the "Prayer After Terror," written by Jennifer Leota Gray.
"Spirit of life and love, shaken by sorrow, we wonder why," Haffner said. "We wonder how human beings can find it within themselves to destroy life that exists also within them. We come together to grieve injustice, of lives cut short by hate, of survivors touched by terror, and yet we stand firm in life; knowing that only, only love can ease our grief, even as it is our love of each other that causes us to grieve loss. Let us come together and mourn as a community that loves life. For we know that life and love must continue."
Hurunnessa Fariad of the All Dulles Area Muslim Society, or ADAMS Center, also offered remarks.
"Our thoughts and prayers are with the victims and with the families of the victims," Fariad said. "As Muslims, we believe that if anyone kills one person, it is as if he or she has killed all of mankind," she added. "But if one person saves one life, it is as if he has saved all of humanity."
Virginia Del. Ken Plum, D-36, a congregant of the United Christian Parish in Reston, was also invited to speak at the gathering. He apologized to the people who were seeking comfort.
While he acknowledged the concern over the deadly mass murder was a natural reaction and he thanked the minister for accommodating the bereavement process for her inter-faith community, he offered stern remarks.
"It's time to stop talking about prayers and thoughts and it's time to take action," he said. "If I seem upset and hot-headed, I'm upset and hot-headed," he added.
He said the Second Amendment had been misconstrued to allow Americans to have an unchecked right to bear firearms. His interpretation of the amendment in the Bill of Rights is more limited, serving only to protect the right of Americans to organize and maintain militias.
"Over the years, [the Second Amendment] has gotten translated to mean that every Tom, Dick and Harry; every crazy, violent person; every criminal around can get however many weapons they want … Come on folks, that's not what the Second Amendment ever intended," he said.
He attributed the "misinterpretation" of the amendment to the "well-funded" and "organized" campaign led by the National Rifle Association.
The NRA has spent a total of $3.2 million in lobbying expenditures in 2017 as of Aug. 7, according to the Center for Responsive Politics. During the 2016 election cycle, the NRA spent more than $52 million backing candidates, including President Donald Trump, according to the Center for Responsive Politics.
"We need to hold all of these people accountable," Plum said of politicians who have a vote on matters of gun control, especially those who accept money from the NRA.
Licensed firearms dealers in Virginia are required by law to perform a criminal history record information check on their customers prior to the sale, trade or transfer of a firearm, according to the Virginia Department of State Police. However, Virginia law does not require unlicensed sellers and transferors to seek this background check before the sale or transfer of a gun at a gun show.
IN 2016, the General Assembly added a provision that requires the Department of State Police to be available to perform background checks for non-dealer sales at firearm shows, but only if requested by a party involved in a transaction.
Plum introduced HB 1773, the "Firearms; criminal history record information check before transfer, penalties," bill in the House of Delegates in January, but it has been unable to move past the House Militia, Police and Public Safety Subcommittee.
The bill, which he says he introduces every year, would repeal the 2016 provision and require criminal history record information checks to be performed on prospective buyers at gun shows. It would also require promoters of firearms shows to post notices of the obligation and provide vendors with access to licensed dealers to conduct the checks.
"How much more uncomfortable do we need to become before the public insists that commonsense gun-safety laws are passed?" he asked the gathering.
To see and hear the sounds from that day, click here https://vimeo.com/237249931